A message from our current Bat Mitzvah, Brooke Lanton:

The Hebrew word "mitzvah" means "commandment." Therefore, "doing a mitzvah" has come to mean performing acts of kindness or doing a good deed. In keeping with one of the highest ideals of Judaism – being charitable – for my Bat Mitzvah project I have given myself a goal to raise $1,000 for Reuth's animal therapy program.

Reuth Medical Center in Tel Aviv serves everyone from elderly Holocaust survivors to disabled children and wounded soldiers. Through your generous donations we will support a rehabilitation program to help heal patients through animal therapy. As a soft form of therapy, animal therapy benefits many patients including severely injured children. The children often respond to select stimuli, with an excellent response to animals in therapy sessions conducted by a trained animal therapist. The therapy has had phenomenal results at Reuth; the animals help improve a patient's ability to communicate and can increase awareness of their surroundings. They also help the patients with their attention span, verbal, memory and motor skills.

Any and all donations will be greatly appreciated. With your help I look forward to supporting the animal therapy program at Reuth!

Contributions can be made online here or sent to the Reuth office at 4 West 43rd Street, Suite 402, New York, NY 10036.

Please make checks payable to American Friends of Reuth. Your donations are fully tax-deductible.

Many thanks!!

Brooke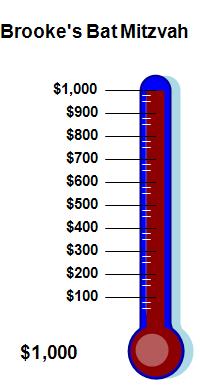 ---
Becoming a Bar or Bat Mitzvah is such an exciting time in your life. We invite you to share this experience with Reuth and help a sick patient at the Reuth Medical Center. Our patients are children, adults, victims of terror, soldiers and those wounded in accidents, all spend many months or even years healing at Reuth. If you choose Reuth as your chesed project, your contribution will mean so much to a very sick person in Israel.  Learn more about who our patients are.
Help the Healing
In addition to physical and occupational therapy, patients greatly benefit from special sensory therapies. For your Bar or Bat Mitzvah, you can choose which kind of therapy you would like to sponsor:
1. Art therapy
2. Music therapy
3. Animal therapy
4. Gardening therapy
Healing Through Technology
Today, the use of technology can both improve a patient's physical and emotional state. At Reuth, we are using advanced technology to guide our patients through their healing process. For your Bar or Bat Mitzvah, we invite you to share in this important challenge.  Some examples of high-tech items on Reuth's wish list are a driving simulator and biofeedback tools.
Fundraising Suggestions
You can sponsor the project of your choice through various fundraising events, such as hosting a basketball tournament, walk-a-thon, bake sale or other events that you think your family and friends will enjoy. We will work together with you to create your own page on our website that will help explain your chesed project to family and friends. We will work with you every step of the way to ensure that your project is successful and meaningful.
We would love to meet you and invite you to come to visit our office in New York.
We can't wait for you to come and visit the Reuth Medical Center on your next trip to Israel. You will be able to see for yourself how much the patients benefit from your efforts. We also look forward to affixing your name to our Bnei Mitzvah Honor Wall at the hospital.
If you are interested in learning more or have other ideas for your project, please be in touch with us by email at info@reuthnyc.org, or call our office at 212-751-9255.